HOW WE WORK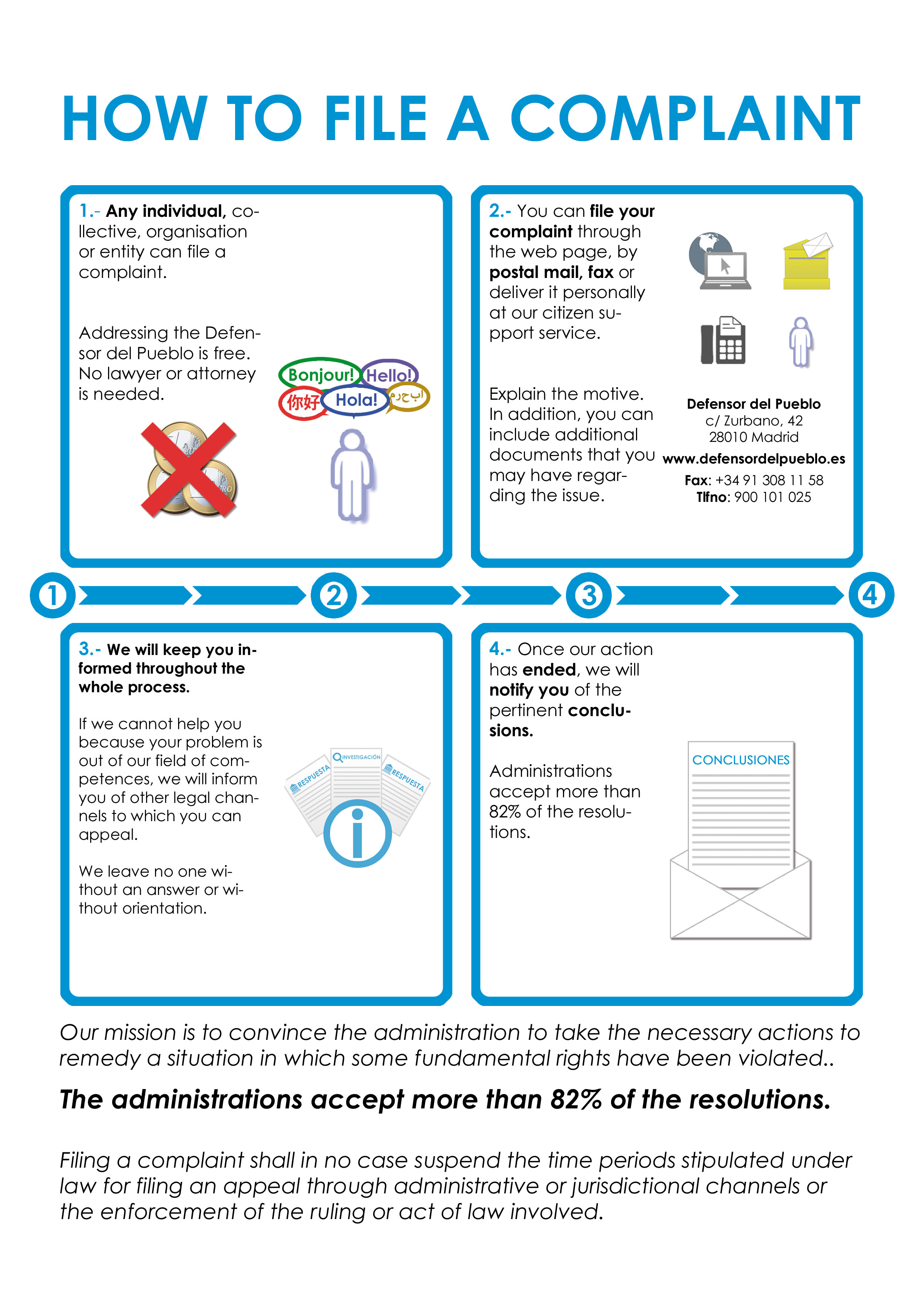 WHO CAN FILE A COMPLAINT? 
Any person, Spanish or foreign, regardless of age or legal status in Spain can file a complaint with the Ombudsman. And you can do so at no cost because the services of the Ombudsman are free of charge.
Residing outside Spain, being legally incapacitated or being in a penitentiary or detention centre are also no impediments to contacting the Ombudsman.
A complaint can also be lodged by an association or any other legal entity.
WE RECEIVE YOUR COMPLAINT
With every complaint we receive, a file is opened.
WE PROCESS YOUR COMPLAINT
In a short time we will let you know if we can help or if , to the contrary, the problem is not within our jurisdiction.
WE ACT BEFORE THE ADMINISTRATION
If a complaint indicates an alleged irregularity, we contact the competent administration for information about the case and propose solutions.
You can consult the processing of the complaint online in the "Consult your complaint" section of our website. By consulting it, you can follow the steps and dates of the Ombudsman's actions, know the Administration or body from which a response is expected, and the meaning of the response.
On this website, the person or persons who contact the Ombudsman will be able to access their documents from anywhere and at any time of the day, using their own password.
HOW CAN WE HELP YOU?
Complaints may be submitted individually or collectively, when any person or group of people feel that the actions of an administration (central, regional or local) or public company or service has violated their rights.
You can also ask the Ombudsman file a complaint of unconstitutionality or a petition for relief before the Constitutional Court.
When the Ombudsman cannot investigate a complaint due to a lack of jurisdiction, we will send a letter to the complainant explaining why. Whenever possible, we will provide guidance on the avenues you can pursue.
No one is left without a response or without orientation.
The Ombudsman monitors any and all violations of rights and can act ex oficio, opening actions or inquiries without waiting for a complaint.
Although the Ombudsman cannot override or modify acts and decisions of the government, in the event that we conclude that fundamental rights have been violated, our mission is to convince the Government to take measures to correct the situation.