HOW WE WORK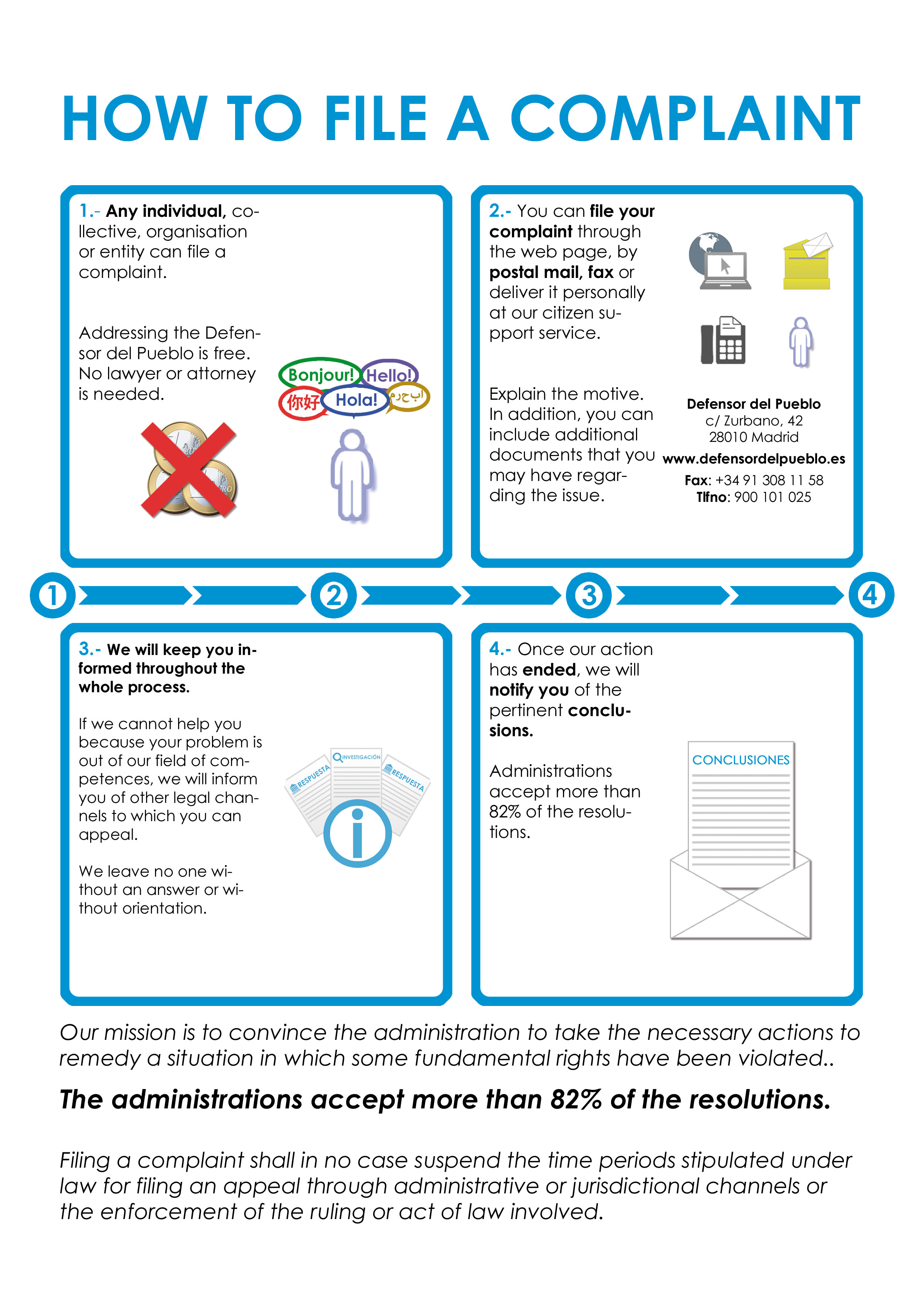 WHO CAN FILE A COMPLAINT? 
Any citizen, Spanish or foreigner, regardless of his age or legal status in Spain can file a complaint to the Defensor del Pueblo at no cost whatsoever, because the Defensor's services are free of charge.
Residing outside of Spain, being declared legally incompetent or being an inmate in a prison or detention centre are not obstacles for filing a complaint to the Defensor del Pueblo.
Associations or legal entities can also file complaints to the Defensor del Pueblo.
WE RECEIVE YOUR COMPLAINT
We open a file for each complaint that we receive
WE PROCESS YOUR COMPLAINT
In a short period of time we get back to you in case that we can help you, or in case that your problem does not fall within our competence
WE ACT BEFORE THE ADMINISTRATION
If we can deduce that there is an alleged irregularity, we intervene before the corresponding administration in order to gather information on the case and propose solutions
If you have filed a complaint to the Defensor del Pueblo after January 1st 2014 you can consult the proceeding throughout the web page in the section "Consulta tu queja" ("Consult you complaint"). This consultation allows you to be informed of the steps that are being followed and the dates of the actions of the Defensor, to know the administration or organism that should submit an answer as well as its meaning.
The person or persons that address the Defensor del pueblo will find in this web page instructions on how to access their documents using their own password from wherever and at any time of the day.
HOW CAN WE HELP YOU?
Complaints may be submitted individually or collectively, when any individual or group of people feels that the actions of any central, regional or local administration or public company or service have violated their rights.
You may also ask the Defensor del Pueblo to file a claim of unconstitutionality or an appeal for the legal protection of Constitutional Rights before the Constitutional Court.
When the Defensor del Pueblo is unable to investigate a complaint because it is outside of the bounds of its authority, the complainant will be sent a letter explaining the reasons why we cannot investigate and whenever possible, advising the complainant as to the legal channels to which he or she has recourse.
No one goes unanswered or unaided.
The Defensor del Pueblo monitors any and all violations of rights and may take ex officio action by opening investigations or inquiries without awaiting a complaint.
Even though the Defensor del Pueblo cannot cancel or modify the actions or resolutions of public administrations, in the cases where it specifies that fundamental rights have been violated, its mission is to convince the administration so that it adopts measures aimed at redressing the situation.
The administrations end up accepting more than 75% of the recommendations